COVID-19 San Diego State University Testing
---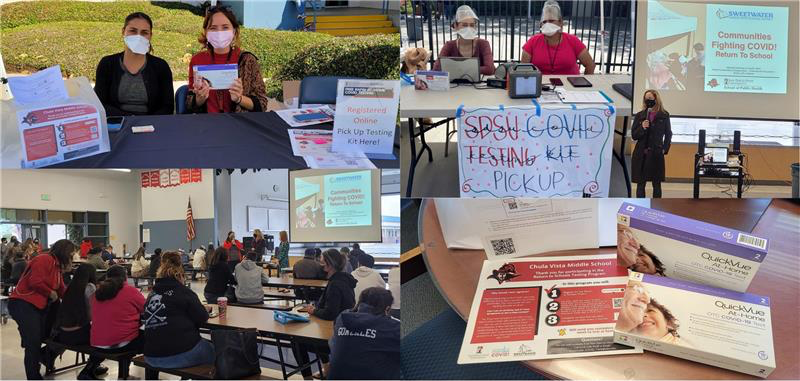 As many of you are aware San Diego State University and Sweetwater District partnered to offer free COVID-19 testing opportunities to students, staff, and household members at all middle schools.

Effective Immediately our SDSU/NIH At-home Testing Program will start a new phase. Instead of expecting participants to test and report every week, we will be asking:

• Participant(s) to test if they become symptomatic (i.e., cough, runny nose, headache, fever or chills, sore throat, diarrhea).
• Participants will no longer receive incentives for registering or testing.
• Test and report as required by the CDC

The Communities Fighting COVID: Return to Schools Testing Program is part of a study that encourages regular COVID testing to keep our schools and families safe. Frequent testing in schools helps to detect infections and prevent transmission. This project is supported by the National Institutes of Health (NIH).

If interested in joining, registration can be done online, Consent form: English and Spanish. You may also attend your school's distribution day(s), as coordinators will be able to assist and answer any questions regarding the consent form.
Please note that you may only pick-up test kits from the school your student is enrolled in.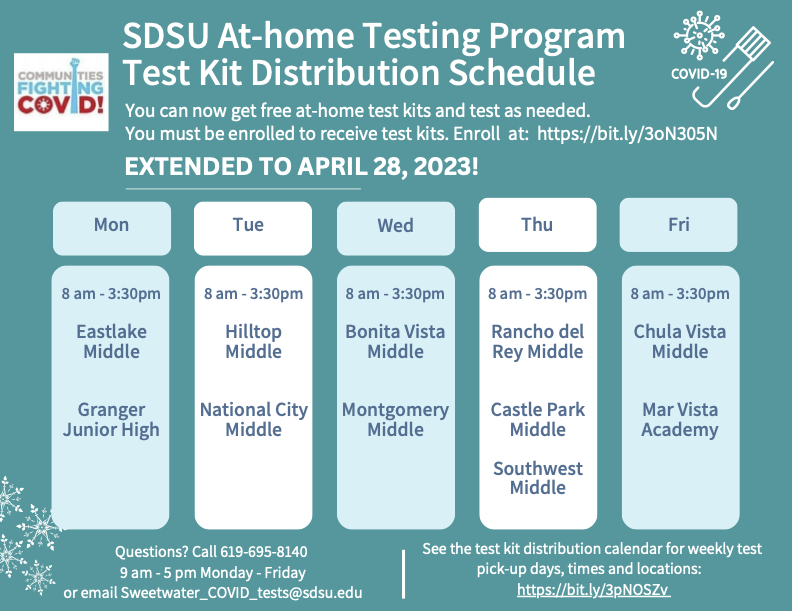 Participating Middle Schools

Bonita Vista Middle
Castle park Middle
Chula Vista Middle
Eastlake Middle
Granger Jr. High
Hilltop Middle
Mar Vista Academy
Montgomery Middle
National City Middle
Rancho Del Rey
Southwest Middle