District Budget Workshops for January 13th and 22nd, 2020
Date: Monday, January 13, 2020
Time: 4:00 pm – 8:00 pm
Location: District Office Board Room
1130 5th Ave, Chula Vista, CA 91911, USA
Date: Wednesday, January 22, 2020
Time: 4:00 pm – 8:00 pm
Location: District Office Board Room
1130 5th Ave, Chula Vista, CA 91911, USA
---
What are your budget considerations? – Staff/Community Input
Click here to submit your budget considerations
---
District Highlights
---
Parent Night: Specialized Programs 2020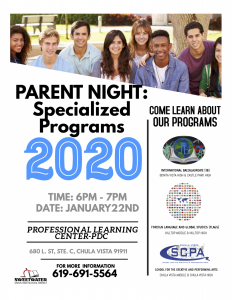 Time: 6pm – 7pm
Date: January 22nd, 2020
Location: Professional Learning Center – PDC
Address: 680 L. St, Ste. C, Chula Vista 91911
For More Information Call: 619-691-5564
Click here for an informational flyer in English or Español
Come Learn About Our Programs
International Baccalaureate (1B)

Bonita Vista High & Castle Park High

Foreign Language And Global Studies (FLAGS)

Hilltop Middle & Hilltop High

SCPA School For The Creative & Performing Arts

Chula Vista Middle & Chula Vista High
---
Teacher Effectiveness and Preparation
INTERN PROGRAM
Information Meetings 4 to 6 p.m.
Thursday, Jan. 16, 2020
Thursday, Jan. 23, 2020
Earn your Education Specialist Credential while you teach!
Mild/Moderate
Moderate/Severe
Early Childhood Special Education (ECSE)
To qualify for the program, you must have the following completed by March 2020:
Bachelor's Degree from an accredited university
CBEST or equivalent test of basic skills
Certificate of Clearance
For additional questions regarding the Intern Program
Send an email to intern@sdcoe.net
Meetings are held at the San Diego County Office of Education
6401 Linda Vista Rd,
San Diego, CA 92111
Comm Labs 1-4
To sign up on our interest list and receive registration info, please go to:
---
The Nutrition Services Department is currently looking for individuals who have a positive attitude, are customer service driven, energetic, and experienced to work in various school kitchen locations, in a dynamic fast-paced environment.
---
Starting pay $21.14 per hour
Application Process:
Or log into www.edjoin.org and type "Sweetwater Union" in the search box.
If you have any questions, call Human Resources at 619-691-5535 
---
Bus Pass Information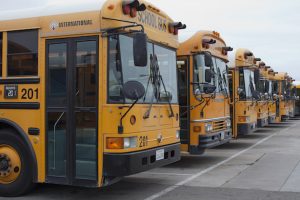 Click here to "Reserve a Bus Pass"
For more information about Bus Passes please visit the Transportation website
---
Sweetwater Currents
Click here to read our most recent Sweetwater Currents
---
Home to School Transportation
Home to School Transportation update for the 2019-20 SUHSD School Year
---
Budget Information and Staff/Community
Budget Information and Staff/Community Input 2019/20
---
Student Intra-District Transfer Procedures
Student Intra-District Transfer Procedures for The School Year 2019-2020
---
Application for Audit Finance Subcommittee Member – 2019-2020
Appointment Application for Audit Finance Subcommittee Member 2019-2020 – PDF
---
Special Olympics Unified Champion Schools National Conference
Sweetwater Hosts Special Olympics Unified Champion Schools National Conference
---
Infinite Campus Parent Portal
Infinite Campus Parent Portal Guide
---
Measure DD
Thank You Sweetwater Community For Supporting Measure DD
---
New Sports Medicine and Wellness Center
SUHSD Showcases New Sports Medicine and Wellness Center at Ribbon Cutting Ceremony
---
Fraud Hotline
---
School Connected Organizations
School Connected Organizations (Booster Clubs) – PDF
---
Online Registration
Online Registration Infinite Campus Parent Portal Links
---
Free and Reduced Meal Applications 2018-2019
Free and Reduced Meal Applications 2018-2019 are available
---
Student Calendars through 2020-2021
Student Calendars now available for 2018-2019 through 2020-2021
---
Sweetwater Stars
How to nominate a Sweetwater Star
---
Resolution Advocating and Protecting All Students
Board of Trustees Sign Resolution Advocating and Protecting All Students
---
Equity, Culture and Support Services
Equity, Culture and Support Services Plan
---
Coaching Recruitment