Welcome Back SUHSD! 2022-2023 School Year
SUHSD, we look forward to welcoming back all of our outstanding students and staff tomorrow 7/20!
This year, as a district our goal is ACCELERATION! We will continue to persevere and work together to serve students and families. Click here for a Welcome Back Video from Superintendent Aguirre.
---
We Are SUHSD!
---

📌 COVID Update – July 14, 2022:
After consultation with medical professionals as well as reviewing state and local guidance, SUHSD will commence the 2022-2023 school year with new COVID-19 protocols. This includes masking and testing during the school year and if exposed to COVID-19 (link here).
Después de consultar con profesionales médicos y revisar la orientación estatal y local, SUHSD comenzará el año escolar 2022-2023 con nuevos protocolos COVID-19. Esto incluye enmascaramiento y pruebas durante el año escolar y si es expuesto a COVID-19 (enlace aquí).
---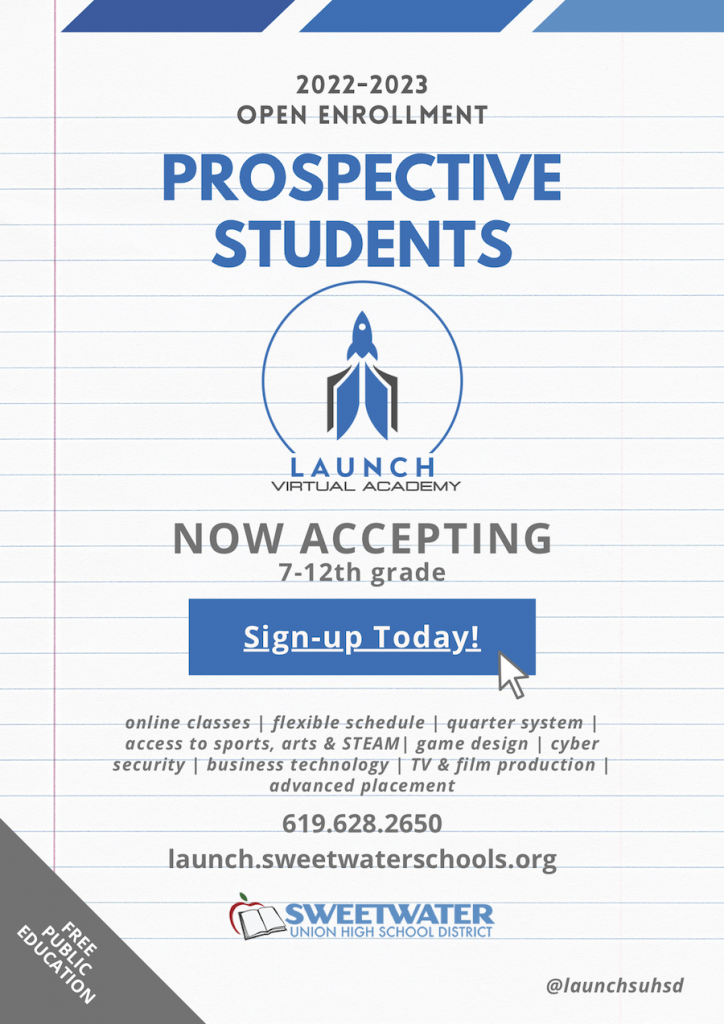 Launch Virtual Academy 2022-2023 open enrollment
Prospective Students
Now Accepting 7-12 grade
Sign-up Today!
619.628.2650
Sweetwater Union High School District – Launch Virtual Academy 
launchvirtualacademy.org
---

P-EBT ❘ Help connect families to their food benefits
---
Why Choose Us – Sweetwater Union High School District
---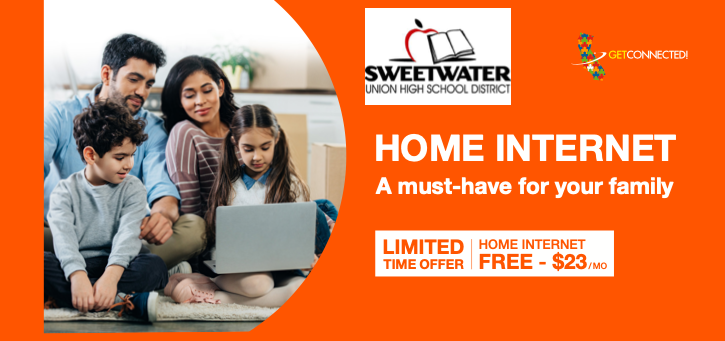 The Federal Communications Commission started a temporary program to help eligible families pay for Home Internet service during the COVID-19 Pandemic. The Emergency Broadband Benefit (EBB) includes up to $50 a month discount on Internet service. 
---
Become an AVID Tutor at SUHSD !

Sweetwater Union High School District
Become an AVID Tutor at SUHSD !
Part-time opportunity
Open to college students
Flexible hours
Availability at multiple sites throughout the District.
Learn more and fill out an application here
---
School Reopening Dashboard
---
One-Time Federal and State Funding
---
Latest District Highlights and Resources

Highlights
Sweetwater Currents
---
Infinite Campus Parent Portal
Infinite Campus Parent Portal Guide
---
Fraud Hotline
---
School Connected Organizations
School Connected Organizations (Booster Clubs) – PDF
---
Online Registration
Online Registration Infinite Campus Parent Portal Links
---
Sweetwater Stars
How to nominate a Sweetwater Star
---
Student Attendance