Grant Will Equip SUHSD Students to Thrive in College-Level Courses
Recently, the Department of Defense kicked-off San Diego Fleet Week by presenting the Sweetwater Union High School District with an $8 million grant to begin implementation of the National Math and Science Initiative (NMSI) College Readiness Program. The program will be implemented in 10 Sweetwater District high schools that have children of military personnel in their student bodies.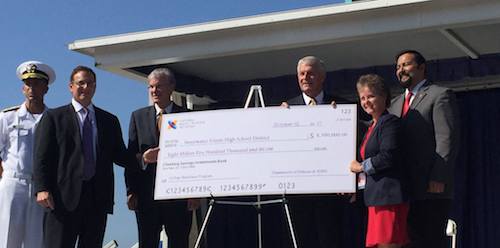 "This grant is giving us an opportunity to really provide the time and training to enhance teaching and learning for students and for staff," said Sweetwater District Superintendent Dr. Karen Janney.
The NMSI grant is intended to increase the number of students taking college-level courses to prepare them for the 21st century economy. The program also places an emphasis on increasing access and achievement among traditionally underrepresented students.
"Over the last couple of years, we have worked very hard as a district to implement strategies in our teaching and learning and overall curriculum that ensure that our students are not only getting into college, but that they are prepared when they get there," said Arturo Solis, Sweetwater District Board of Trustees President. "Our motto has been "Putting Students First" and with the help of this program, we will be able to do just that."
The program will be implemented at Bonita Vista , Chula Vista, Eastlake, Hilltop, Montgomery, Mar Vista, Olympian, Otay Ranch, Southwest and Sweetwater high schools. 
The presentation at the Port Pavilion on Broadway Pier helped kick off Fleet Week San Diego. Chula Vista High student Roman Cisneros opened the program by singing the national Anthem and Mar Vista High's NJROTC paraded the colors.
Tom Torlakson, State Superintendent of Public Instruction attended the event and encouraged students to "continue being innovative and keep exploring."
NMSI is a 10-year-old program that has been implemented in 217 high schools that serve military families in 31 states, 93 military installations and four military services.