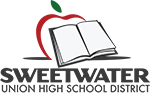 As a new variant emerges worldwide, Sweetwater's asymptomatic testing program continues to be a critical pillar, helping to detect COVID-19 and prevent outbreaks
CHULA VISTA, CA – Sweetwater Union High, California's largest secondary school district, has taken an active role in combating the spread of COVID-19 through routine pooled testing in partnership with Concentric by Ginkgo, the public health and biosecurity initiative at Ginkgo Bioworks (NYSE: DNA).
The high-volume testing program, which commenced Summer 2021, has grown to include 23 middle and high schools throughout San Diego's South Bay.
Each week, a team provided by Concentric arrives at the schools, sets up the logistics for pooled COVID-19 testing, and supervises sample collection. Up to 25 samples are included in a "pool," which is then sent by courier to a local lab. Results from the pool are typically returned to the school within 1-2 days, and, should any pool return positive, that group of students will test individually to identify any positive COVID cases. This follow-up testing is conducted using individual rapid antigen tests. By conducting a broad pooled testing program with targeted rapid antigen follow-ups, schools are able to minimize disruption to classroom time and extracurricular activities, while simplifying the logistics of testing.
"Testing has been such a benefit for our communities," said Hilda Cadena, COVID Testing Coordinator for Sweetwater High School District. "Sweetwater Union High conducts an average of about 5,500 tests per week with a total of over 65,000 tests administered in a 3-month period. Through routine testing, we are better equipped to help identify and address outbreaks. Testing has helped us create a more 'normal' school experience for our students."
"Students are identified in positive pools; we administer the antigen tests and we identify and support the student who has a positive case," said Cadena. "Due to pooled testing, we help prevent the spread by addressing it immediately. We believe this has also gained the support of the community to see immediate response and follow through."
Concentric is no stranger to the testing arena, providing testing for hundreds of thousands of individuals nationwide each week. The California Department of Public Health (CDPH) has contracted with the company to provide free testing to schools throughout the state, freeing up precious district resources for other urgent needs. Of course, testing couldn't be possible without support from the school district. By designating a single district "Test Champion," Sweetwater Union High School District has been able to coordinate all testing activities across the school district. This Test Champion works with Concentric to alleviate the workload on educators and administrators.
"We are proud to partner with Sweetwater to help keep kids in school and COVID-19 out," said Laura Bronner, Vice President of National K-12 Testing at Concentric. "We've worked closely with CDPH to support the district with robust program staffing to ensure that this is an easy and flexible solution for both in-school and after-school testing."
Sweetwater first focused on after-school pooled testing for extracurricular activities like sports, visual, and performing arts. However, after a successful program launch, Sweetwater expanded testing to take place during regular classroom hours.
"We run like a well-oiled machine. Everyone knows their schedules," says Mary Rose Peralta, Principal at Otay Ranch High School. "Right at 2:30pm, students and faculty line up to test. In less than 30 minutes, we can test 300-400 students on our campus. Pooled testing has made it easy, quick, and efficient."
"We greatly appreciate our partnership with the CDPH and Concentric by Ginkgo to provide additional testing measures of this magnitude to the students in our district," says Sweetwater District Superintendent Dr. Moises G. Aguirre. "As we continue to see changes in COVID variants, we could not risk the safety of our students and staff and feel confident knowing we've taken an active approach to testing, as an additional layer of protection for our students, staff and all of our school communities."
To learn more about the program or to sign up, visit https://www.sweetwaterschools.org/covid-19-concentric-by-ginkgo-testing/ or https://www.concentricbyginkgo.com/.
About the Sweetwater Union High School District
Founded in 1920, the Sweetwater Union High School District (SUHSD) has grown to more than 40,000 students in grades 7 through 12 and more than 22,000 adult learners. The District's 30 campuses located in the heart of an international border community in the cities of (Chula Vista, Imperial Beach, National City and San Diego, including the communities of Bonita, Eastlake, Otay Mesa, San Ysidro and South San Diego) ensure a safe, inclusive, collaborative culture that empowers each student to actively engage in a meaningful educational experience to pursue personal and academic success.
About Ginkgo
Ginkgo is building a platform to enable customers to program cells as easily as we can program computers. The company's platform is enabling biotechnology applications across diverse markets, from food and agriculture to industrial chemicals to pharmaceuticals. Ginkgo has also actively supported a number of COVID-19 response efforts, including K-12 pooled testing, vaccine manufacturing optimization, and therapeutics discovery. For more information, visit www.ginkgobioworks.com.
Ginkgo Forward-Looking Statements
This press release contains certain forward-looking statements within the meaning of the federal securities laws, including statements regarding the potential of Ginkgo's biosecurity capabilities and Concentric by Ginkgo initiative. These forward-looking statements generally are identified by the words "believe," "project," "potential," "expect," "anticipate," "estimate," "intend," "strategy," "future," "opportunity," "plan," "may," "should," "will," "would," "will be," "will continue," "will likely result," and similar expressions. Forward-looking statements are predictions, projections and other statements about future events that are based on current expectations and assumptions and, as a result, are subject to risks and uncertainties. Many factors could cause actual future events to differ materially from the forward-looking statements in this document, including but not limited to: (i) the effect of the business combination with Soaring Eagle Acquisition Corp. ("Soaring Eagle") on Ginkgo's business relationships, performance, and business generally, (ii) risks that the business combination disrupts current plans of Ginkgo and potential difficulties in Ginkgo's employee retention, (iii) the outcome of any legal proceedings that may be instituted against Ginkgo related to its business combination with Soaring Eagle, (iv) volatility in the price of Ginkgo's securities now that it is a public company due to a variety of factors, including changes in the competitive and highly regulated industries in which Ginkgo plans to operate, variations in performance across competitors, changes in laws and regulations affecting Ginkgo's business and changes in the combined capital structure, (v) the ability to implement business plans, forecasts, and other expectations after the completion of the business combination, and identify and realize additional opportunities, and (vi) the risk of downturns in demand for products using synthetic biology. The foregoing list of factors is not exhaustive. You should carefully consider the foregoing factors and the other risks and uncertainties described in the "Risk Factors" section of Ginkgo's quarterly report on Form 10-Q filed with the U.S. Securities and Exchange Commission (the "SEC") on November 15, 2021 and other documents filed by Ginkgo from time to time with the SEC. These filings identify and address other important risks and uncertainties that could cause actual events and results to differ materially from those contained in the forward-looking statements. Forward-looking statements speak only as of the date they are made. Readers are cautioned not to put undue reliance on forward-looking statements, and Ginkgo assumes no obligation and does not intend to update or revise these forward-looking statements, whether as a result of new information, future events, or otherwise. Ginkgo does not give any assurance that it will achieve its expectations.
Contacts
Sweetwater Union High School District:
nadege.johnson@sweetwaterschools.org
Ginkgo:
INVESTOR:
MEDIA: press@ginkgobioworks.com